TAMPA SOCCER and FUTSAL ACADEMY

           E.mail. lucianofernandez@netscape.net.........tampasocceracademy@gmail.com 

​Please call. (813) 416-2652

We offer Team Camps, Boys & Girls Camps, High School Season Training & GoalKeeper Camps. We focus on coordination, speed, strength, agility, and conditioning. Our staff is available to answer all of your questions.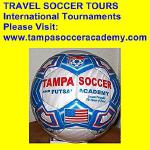 Elite Travel Consultants.

Mario/Humberto Sanchez. Director

(011.595) 21- 450 692 - 21-204-785

E.mail: humberto.eliteparaguay@gmail.com

Asunción Paraguay.

Coach Luciano visiting the Paraguay National Soccer Coaches. 

            Welcome to our web page.                                Here is the history of our accomplishments .

If you are 50 or older you are invited to join the Master USA soccer team to participate in the COPA AMERICA MASTERS, to be held at ASUNCION PARAGUAY in December 2017.

For more information, please contact us or call (813) 416-2652

World Cup coaches for your team. ROLANDO CHILAVERT, OSCAR PAULIN, PORFIRIO MAIDANA.

Resume available.