TAMPA SOCCER and FUTSAL ACADEMY

​Please call. (813) 416-2652

We offer Team Camps, Boys & Girls Camps, High School Season Training & GoalKeeper Camps. We focus on coordination, speed, strength, agility, and conditioning. Our staff is available to answer all of your questions.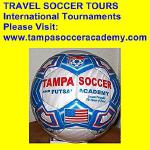 Elite Travel Consultants.

Mario/Humberto Sanchez. Director

(011.595) 21- 450 692 - 21-204-785

E.mail: humberto.eliteparaguay@gmail.com

Asunción Paraguay.

Coach Luciano visiting the Paraguay National Soccer Coaches. 

TSA Futsal team   Visiting Spain...

            Welcome to our web page.                                Here is the history of our accomplishments .

TAMPA SOCCER ACADEMY, invites you to take your team to play an International Soccer Tournament in Asunción, Paraguay, South America, 

  Countries participating: Paraguay, Argentina, Brazil, Chile and U.S.A. Your team will also play friendly Futsal games. All team participants will play and stay at the YACHT & GOLF CLUB, PARAGUAY.    
www.resortyacht.com.py 
www.sportsplex. We are here.

Come and play futsal with us.