TAMPA SOCCER and FUTSAL ACADEMY

           E.mail. lucianofernandez@netscape.net.........tampasocceracademy@gmail.com 

​Please call. (813) 416-2652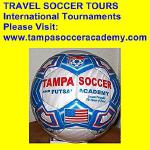 Elite Travel Consultants.

Mario/Humberto Sanchez. Director

(011.595) 21- 450 692 - 21-204-785

E.mail: humberto.eliteparaguay@gmail.com

Asunción Paraguay.

            Welcome to our web page.                                Here is the history of our accomplishments .

Coach Luciano visiting the Paraguay National Soccer Coaches. 

             We promote the sports of Soccer and Futsal. 

      We supervise competitions at local and national level.

      We resolve questions and controversies.

      We manage the State and National Futsal Championships.

      We manage and support our National teams for international        competitions . 

       INTERNATIONAL TEAM TOUR.