TAMPA SOCCER and FUTSAL ACADEMY

           E.mail. lucianofernandez@netscape.net.........tampasocceracademy@gmail.com 

​Please call. (813) 416-2652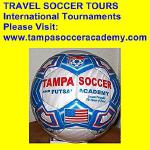 Elite Travel Consultants.

Mario/Humberto Sanchez. Director

(011.595) 21- 450 692 - 21-204-785

E.mail: humberto.eliteparaguay@gmail.com

Asunción Paraguay.

            Welcome to our web page.                                Here is the history of our accomplishments .

Coach Luciano visiting the Paraguay National Soccer Coaches. 

My dedication to Futsal is all due to the passion that I carry inside. For more than fifty years I have dedicated my time and indeed my life, to spreading and teaching this sport wherever I may be. I have worked on this endeavor in the United States, for more than 27 years. I will keep running behind the ball until God tells me it is enough; it is time to hang up that sweaty shirt. I am sure that before going on to the beyond, I will see my Futsal performed in the World Olympic games.