TAMPA SOCCER and FUTSAL ACADEMY

           E.mail. lucianofernandez@netscape.net.........tampasocceracademy@gmail.com 

​Please call. (813) 416-2652

We offer Team Camps, for SOCCER and FUTSAL, for Boys & Girls GoalKeeper Camps. We focus on coordination, speed, strength, agility, and conditioning. Our staff is available to answer all of your questions.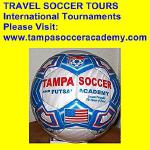 Elite Travel Consultants.

Mario/Humberto Sanchez. Director

(011.595) 21- 450 692 - 21-204-785

E.mail: humberto.eliteparaguay@gmail.com

Asunción Paraguay.

Coach Luciano visiting the Paraguay National Soccer Coaches. 

            Welcome to our web page.                                Here is the history of our accomplishments .